Make-up remover is extremely important as they act as the first-step cleanser that SHOULD be able to wipe out all the bits and pieces of make-up we pile on our face. Some facial cleanser might claim that they are able to remove make-up, but trust me I've tried those, you'll still see stains of make-up retain on your face. If you wear make-up even just a BB cream or mascara, make-up remover is still a MUST!
I'm going to share some make-up removers I've tried so far:
1)
Etude House- Cleansing Dream (Fresh Cleansing Water)
What Etude Says:
Cleansing water with a fresh sensation specially formulated to gently remove makeup, oil
and impurities from complexion.
Mineral Oil free, Alcohol free, Clinically tested.
What I Say:
Is this even a make-up remover? It doesn't even remove my maybelline's non-water proof foundation. Basically I think its just water with added scent.
(I gave 1 just because the packaging is cute)
2)
Etude House- Cleansing Dream (Mild Cleansing Milk)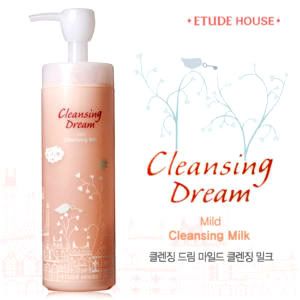 >
What Etude Says:
Mild milky texture specially formulated to tone and moisturize skin while removing makeup.
What I Say:
Okay, this I gotta admit it does remove my foundation and moisture my skin. But you can only use this to remove light powdered make-up.
3)
Etude House-Mascara Remover Perfect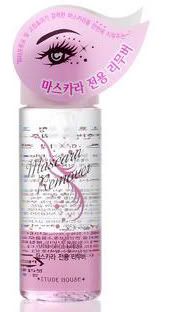 What Etude Says:
Removes heavy, hard to erase eye makeup in one quick and easy step. Specifically formulated to remove eye makeup without skin irritation.
What I Say:
No, it DOES NOT remove my Maybelline's STILETTO/COLOSSAL mascara and Dolly Wink eyeliner. It is kinda oily and it did sting my eyes as well.
(I gave 1 just because the packaging is cute)
4)
Etude House- Lip & Eye Remover
What Etude Says:
Alcohol-free, ph balanced remover preserves sensitive areas around the eyes and lips during makeup removal.
What I Say:
Though it is not that oily, it does remove foundations, eyeliner and mascara but it DID sting my eyes and turn reddish. (Isn't it suppose to be safe for eyes, since the product itself states that it is indeed an Eye remover)
(I gave only 1 because it stung my eyes and my eyes turn reddish! Meaning this product is NOT safe for my eyes.)
5)
Maybelline Make-up Remover
What Maybelline Says
: Removes all eye and lip make-up, even waterproof and non-transfer.Formulated for sensitive eyes, especially very gentle and delicate around skin. OPHTHALMOLOGICALLY and DERMATOLOGICALLY tested.
What I Say:
This by far my FAVORITE make-up remover, it removes everything in my face from foundation to the toughest mascara thoroughly. It doesn't even once sting my eyes even though sometimes I'm rubbing it so hard,; still no sting nor reddish of eyes.
6)
Ever Bilena Advance Make-up Remover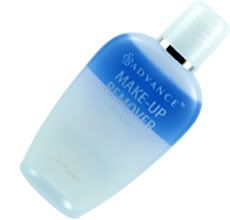 What I Say:
VERY GREASY, yes it does remove powdery make-up but because it is too oily that it way make-up tends to rub off because of the oiliness. I think its just cheap knockoff of Maybelline's that don't work at all.
(I gave one just because it is locally made, I want to support local products but they have to at least show some efficacy and quality tsk!)
7)
Nichido Make-up Remover
(I throw away this remover already and I can't find a decent picture in internet as well. Basically its in a transparent greenish bottle)
What I say:
EXTREMELY GREASY, yup I'm NOT exagerating its really so so greasy and to make it even worst it doesn't remove stubborn mascara/geliners. It did sting my eyes as well.
(Sorry I am just being honest here, but at least their eyelash curler is great!hehe)
What Loreal Says
: A non-irritating, fragrance-free formula to gently and effectively remove waterproof eye make-up and long lasting lipstick. The dual action formula contains oils to dissolve make-up and a lotion to remove traces of make-up and refresh the skin. Suitable for all eyes including sensitive and contact lens wearers. OPHTHALMOLOGICALLY and DERMATOLOGICALLY tested.
What I Say:
Basically it works the same way as Maybelline's. The only cons is that it is a little bit oiler compare to Maybelline's. So Maybelline's is still my number one! Hehe~
What Loreal Says:
Gently removes make-up and impurities leaving skin clean and fresh. DERMATOLOGICALLY tested.
What I Say:
Okay this basically NOT a make-up remover but a cleanser that claims to remove make-up. But it DOES remove foundation, powders make-up well and leaves my skin soft and smooth.
(I gave only 3 because this is NOT intended for eye
s)
What Biore Says:
Transparent gel that penetrates into pores to remove dirt and make-up within the pores, even for hard to remove waterproof foundation and lipstick. Non greasy, contains moisturizing ingredients, leaving skin soft and not tight.
What I Say:
This remover can be a little bit sticky at first but it does remove all kinds of make-up thoroughly. The only thing I don't like is it's a little sticky and is NOT intended for removing eye makeups.
11)
ZIAJA- Eye makeup remover (gentle saft suave)
What Ziaja Says:
Gentle eye make-up remover recommended also for contact lens wearers.
Ophthalmologist tested.


What I Say:
I just bought this last week and I'm loving it!!!
Ziaja has 3 kinds of Make-up Remover: Gentle, Moisturizing and Duo-phase, since its my first time trying I bought the Gentle first. This thing is NOT oily nor sticky; it's a very refreshing liquid that tends to gently remove make-up. I'm liking this because your skin would feel refresh, the same feeling as you wash your face with cold water. The only downside though is that it doesn't remove make-up that thoroughly especially on the mascara part. I think I need to get the Duo-phase one instead as the gentle one only removes non-water proof make-up while the Duo one's does.
Some tips on how to choose a suitable make-up remover (based on experience):
**If you want a make-up remover that only removes foundations/powders based make-ups, then try using Cream/Milk based remover because it does not only remove makeup but also smoothen your skin.**
**If you are in search of removing heavy eye makeup such mascaras/gel liners, I would recommend to use ONLY removers that clearly states "Ophthalmologist tested" and "
Formulated for sensitive eyes"
, that way you could eliminate getting your eyes infected**
** If you are in search of an All-in-1 make-up remover then I would suggest to use ONLY removers that are
"Ophthalmologist" and "
DERMATOLOGICALLY" tested.
That way you are sure that your skin is protected and your eyes won't get infected.**